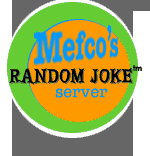 The old folks were sitting around the nursing home. An elderly woman said to an elderly gentlemen, "I bet i can guess your age."
"No way," says he, "no one has ever guessed my age correctly."
The elderly lady says, "Now take off your pants -- ok, now turn around -- you are 84 years old."
"That's amazing -- how did you know that?" sayeth he.
"You told me yesterday." was her reply.