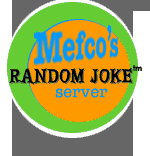 Scene: Pharmacy. Foster is looking at the shelves. A woman approaches him.

Woman:

Can I help you sir?

Foster:

I'd like to see the registered pharmacist.

Woman:

I'm a registered pharmacist, and so is my sister. We own the store.

Foster:

Well . . . I guess you can help me. I've had this tremendous erection for two weeks and nothing I do will get rid of it. What can you give me for it?

Woman:

That's a rather unusual problem. I'll have to consult with my sister.

(She goes into the back room and returns a few minutes later)

Woman:

How about $5000 and half the business?