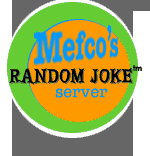 A man is about to get married the next day and is playing softball with his buddies. Suddenly, a line drive hits him directly in the groin and he doubles over in extreme pain. His friends take him to the doctor and the doctor examines his penis.
"Well," says the doctor "there's not much I can do for you except minimize the pain by splinting it to reduce movement" whereupon he takes some cotton and tongue-depressors and fashions a crude splint.
The next night the man is on his honeymoon and his new bride comes out of the bathroom in a skimpy teddy. "Look at these breasts" she says, "no man has ever touched these beautiful breasts before; I have been saving them all my life for my husband and now you will be the first ever to touch them!"
The new groom drops his drawers, "That's nothing!" he exclaims, pointing to his penis "Look -- still in the carton!"