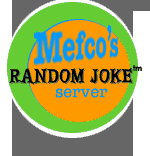 For a long time, Mary had a fantasy of making love with an [ethnic] man. One night, when she was in a bar, she met a handsome [ethnic] who appeared to be well-hung, so she figured, what the hell, she'd go for it. So Mary asked the fellow to come home with her.
When the two got to Mary's apartment, Mary told the [ethnic] about her fantasy, and asked if he would be a part of it. Well, the [ethnic], of course, agreed, so the two headed for Mary's bedroom. When they got there, Mary said, "Ok, first, I want you to undress me and tie me to the bed!" So the [ethnic] did so. By this time, Mary was worked into a passionate frenzy. She looked up at the [ethnic] and said, "Now, big boy, do what you do best!"
So the [ethnic] picked up her VCR and left.