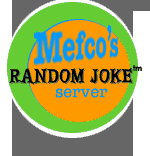 So it seems these two friends are talking one day, when they agree that they've always wanted to live south-of-the-border, and that they should move to Mexico and set up a business. Their hobby is bungee-jumping, and so they join a small amusement park near the ocean, selling bungee jumps to the tourists.
As they construct the tower, a crowd begins to assemble. Slowly, more and more people gather to watch them. When everything is ready, one of the leans forward, and as the crowd gasps, falls toward the waiting earth below. He bounces at the end of the cord, and as he comes back up, his friend notices that he some cuts and scratches. He rebounds, bounces and comes back up again. This time, he has bruises. He rebounds, bounces and comes back up, but this time he grabs hold of the platform and starts hauling himself over the edge. He's bruised all over, and appears to be bleeding. The guy on the tower pulls him back onto the platform and yells, "What happened to you? Did you hit? Was the cord too long?"
"No," replies the jumper. "The cord was just fine, but what the hell is a pinata?"