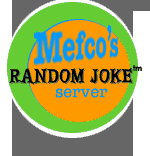 Bob and Joe are joking are joking around in the top floor of their apartment building and they decide to moon the people on the streets through their window. Bob looks over at Joe and can't help but notice that Joe has a cork stuck up his ass. Later on that day, Bob casually brings up the subject and asks Joe how he got the cork stuck up his ass.
"Well," said Joe, "I'll tell you the whole story."
"One day I was walking along the beach when I tripped over an enchanted lamp. A genie popped out of the lamp and said 'My name is Abdullah, I will grant you three wishes.' and I said 'No shit!"...